09-14-2023: New documentary about Lex Barker on ARTE!

A new docu about Lex Barker's life will be broadcasted on ARTE on October 1st, 2023 at 22.05 h. ARTE has done a lot of research and has got some new material. Don't miss it!
A trailer is available on ARTE.
On the official Barker site you can see a report about the shooting of this documentary.
03-27-2023: Lex Barker - Memories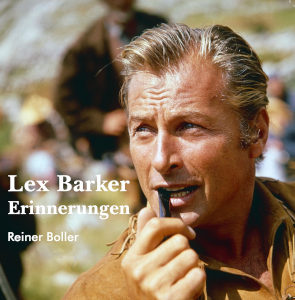 May 2023 marks the 50th anniversary of Lex Barker's death. The simpatico U.S. American actor still holds an iconic status in Germany. A new book is to be released on this occasion.
This book commemorates the story of his life - the life of a young World War II U.S. Major who in Hollywood, became famous as Tarzan the jungle man but who, at the same time, was pigeonholed in this genre, later finding himself on a success route again when he played the part of Old Shatterhand in German movies. And in Germany, the country of his former war enemies, he became the biggest matinée idol. His premature death abruptly ended his attempts of making a comeback in Hollywood.
This book documents the story of Barker's life with all its ups and downs on the way to the peaks of his fame in Hollywood and in Europe. Filled with quotations, little stories about his personal history and his movies plus, first and foremost, many photos including very rare pictures of documents and belongings from Barker's private archive, this book is a unique collection and documentation.
Thanks to the support of the Barker family who gave access to the private archives of the iconic actor, a book with a very special and personal touch came about.
11th May 2023 — Additional Info:
The book has been released by BoD as Hardcover-Version as well as Softcover-Version. These version is in German only, but a very special English version is supposed to be launched in the second half of the year 2023!