Aging actor Ristol feels himself prisoner of his body, his job and his traits, and he is very unhappy with his life. He decides to leave his body and to penetrate into a doll's body. The transfer is successful, his soul lives on in the doll and his own body dies. His secretary Constantino is fascinated by the doll and steals it, but soon he becomes scared because of its suggestive ability. He tries to destroy the doll and finally throws it into the sea.
Ristols lover Ana can't accept his death and desperately tries to find him, at times supported by an awkward detective. In the meantime Ristol's soul has migrated into a murdered fisher who now comes alive again. But she is murdered once again and finally Ristol's soul migrates into a stone where he can rest.
This movie has only been shown on the film festival in San Sebastian and never made it to the big screen. Thus the DVD edition is the first possibility for Barker fans to watch it. Therefore some short annotations to the movie:
April 10th 2006: Aoom has been released on DVD!
The Aoom box contains two DVDs, first with Aoom, second with the movie "El Genio Tranquilo" plus a book with additional information.
Translation from Mr. Boller's info (shortened)
Continuation of AOOM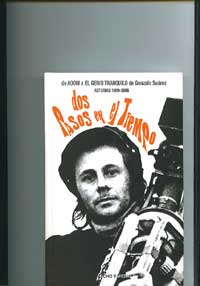 Now 35 years later there is a continuation of Aoom - again with Lex Barker!
Gonzalo Suárez, director of Aoom (1970) presents a continuation of Aoom. After 35 years he returned to the original set on the Asturian coast and shot a new 45 minutes film "EL GENIO TRANQUILO". A lot of reminiscenses can be seen to the original work of "Aoom".
In EL GENIO TRANQUILO the ghost of actor Ristel (then played by Lex Barker) which had been transformed into a stone appears again and travels back to the places of Aoom. The coast and the small harbour of Aoom is there again but a new wreck shows the passing of time. Flashbacks show parts of the original movie (some with Lex Barker) and documentary clips explain the work on Aoom. One sequence shows Orson Welles who should play Ristel first but was exchanged for Lex Barker. This was ment by Suárez as a credit to Lex Barker. In the end the stone is buried again and here we've come full circle.
With book and DVD combination of "Dos Pasos en el Tiempo: De Aoom a El Genio Tranquilo de Gonzalo Suárez, Asturais 1969-2006" the artist presents two works of different periods. The DVDs come in excellent quality with some little extra material (slide show, info on Gonzalo Suárez, movie poster). Additionally there is a book written in Spanish by director Suárez.
This new work allows Lex Barker to be dicovered anew in a very unusual document of his career. And it's very gratifying that his name is listed in the final credits of EL GENIO TRANQUILO. A new movie with Lex Barker in the year of 2006. Thank you, Gonzalo Suárez!
Reiner Boller
April 2006
This movie can be ordered for example at:

www.ochoymedio.com
Choose English language (British flag), go to "Catalogue", search for "Aoom" or the complete Spanish title "Dos pasos en el tiempo" and you will get to the right page to order. Price is about 24 Euros plus s&h.
2. DVD "El Genio Tranquilo"
This movie has a narrator speaking Spanish which I don't understand so I don't quite get the meaning of this film. But the plot is the one already described by Reiner Boller (see above). The flashback scenes are pretty interesting: the main actor looks through a case with holes on two sides ("caja mágica"). This "camera" then shows scenes from the original "Aoom" movie - partly with very surprising effects for the actor.
The final credits show Lex' name only in the cast list of "Aoom" which is listed here.
Excerpt from Gonzalo Suaréz' book "Dos Pasos en el Tiempo" concerning Lex Barker on pages 46 and 47 (written in form of an interview), translated from Spanish language into German by Señora Encinas:
...In the end Lex Barker who had practically retired and was married to Tita Cervera at the time (now Baroness Thyssen) was to play Ristol...
G.S. They lived near Barcelona in a house with swimming pool. The house was called "Màs Manñanas" (* "More Tomorrow" or "Many days to come"). I wanted the character to be played by a foreign actor. I couldn't imagine Fernando Fernán Gómez (* well known Spanish actor) for example coming out of his body without making the audience laugh. For his role there was something strange, something mysterious necessary which the Spanish films of this time didn't cause. Of course Lex Barker, more known because of his role as Tarzan, was not the most adequate choice but I had neither alternatives nor time. I assumed him the best choice albeit I exposed myself to the criticism about Lex skills as an actor. "Tarzan came down from the tree, his last cry: Aoom!" was a cruel and witty headline expressing clearly the public opinion about Lex Barker. But - and I am convinced of this: Lex Barker was very good in this role. Maybe he didn't quite get the meaning of what he was doing but he was very good, he was that good that I wouldn't exchange him for anyone now. He showed himself like an actor with difficulties, which was exactly what he was during the shooting of his sequence and what the role demanded. I like his apparent strength, his appearance as a galant of Hollywood struggling to keep his head up. In Aoom Lex played his last role. He died, not very much later, in New York. Er left his body forever.
* = Annotation by translater
I thank Tanja for sending me the (German) translation!