The Man from Bitter Ridge
Content:
For the third time the stagecoach to Tomahawk with a big load of gold dust is held up. Two men are shot and the bandits escape without being recognized.
Jeff Carr riding along on his way to Tomahawk suddenly has to face a man with a gun demanding his horse for his own lame one. When the man is gone his pursuers who were hot on his trail appear and mistake Jeff for the bandit, recognizing the horse as one of the gangsters horses who robbed the stagecoach.
They don't listen to Jeff's explanation and wantt to lynch him on the next tree. Only the sheriff arriving just in time can prevent Jeff from hanging. Until the situation is cleared up Jeff is sent to jail.
These events have been watched by Alex Black, chief of the sheepmen of this area, and pretty Holly Kenton. Holly would like to go to town to clear up Jeff Carr but Alex warns her that the towns people do not like the shepherds and won't believe her, because they think the sheepmen robbed the stagecoaches.
It turns out that Jeff Carr has a perfect alibi and he is set free. He tells the sheriff that he is sent by the stagecoach company to check the raids and to find the robbers. The Jackman brothers who are in fact the ones responsible for the holdups try to get rid of Jeff. Clem, one of the brothers bushwhacks Jeff but Holly appears in the last moment and saves Jeff from being shot.
Will Jeff be able to clear up the raids? And will the sheepmen help him to arrest the Jackmans who have a lot of influence in Tomahawk?
This western is together with Battles of Chief Pontiacmy favorite western with Lex Barker, he has a good story, very good cast and is well played.
Cast:
Lex Barker:
Jeff Carr, Dubbing actor: Gert Günther Hoffmann (90 Kb)
Sound file with Lex' own voice
Mara Corday:
Holly Kenton
Stephen McNally:
Alex Black
John Dehner:
Ranse Jackman
Trevor Bardette:
Sheriff Walter Dunham
Ray Teal:
Shep Bascom
Warren Stevens:
Linc Jackman
Myron Healey:
Clem Jackman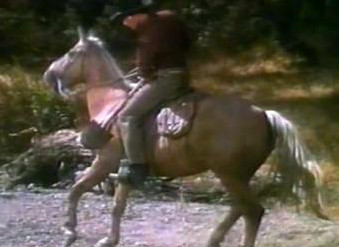 Lame horse!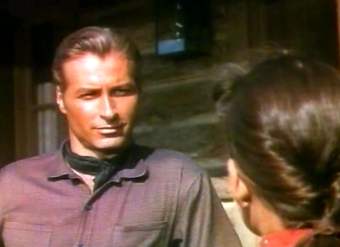 Flirting with Holly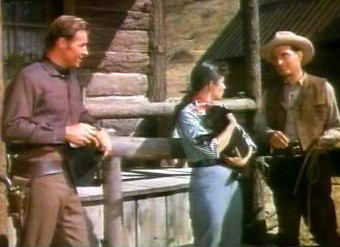 Rivals!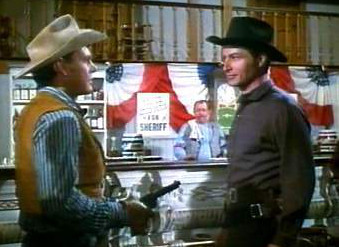 Encounter with Clem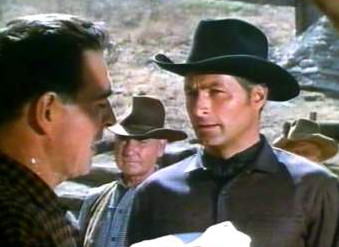 Hard to convince!

Movie is available on DVD
Previous movie | Filmography | &nbspMovie pictures | Next movie