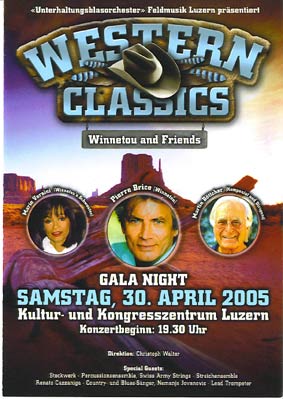 On April 30th 2005 a concert according to the motto "Western Classics" took place in Luzern (Swizzerland).
Summary by Reiner Boller (poorly translated by Margrit):
According to the motto "Western Classics" the orchestra Feldmusik Luzern presented great film melodies on April 30th 2005.
In world famous Kultur- and Kongresszentrum Luzern (KKL) you could hear Martin Böttchers Karl-May-Film music (Winnetou-, Old Shatterhand-, Ölprinz-, Grand Canyon- and love melody), sound tracks by Ennio Morricone (Once Upon a Time in the West; The Good, the Ugly, the Bad), John Williams John Wayne music The Cowboys and Bernsteins theme to The Magnificent Seven, furthermore titles like The Apaches and songs like Sweet Home Chicago or All in Good Time. the orchestra, the Streichensemble of the Swiss Army Strings, Stockwerk (percussion ensemble) and main trumpeter Nemanja Jovanovic, mouth organ artist Heinz Arnold and singer Renato Cazzaniga made this evening an top class music event.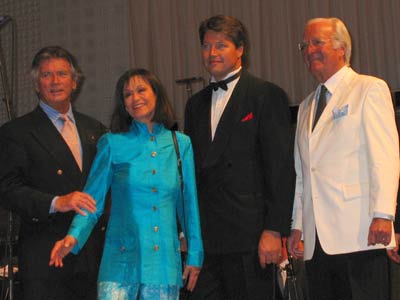 Special highlight for Karl May film fans was the presence of Pierre Brice, Marie Versinit and composer Martin Böttcher who conducted some of his music himself. With movie clips and a talk round with the prominent guests there were especially remembrances of one man who could not be present: Lex Barker. Pierre Brice read his lyrics "Du fehlst mir" (= I miss you), and then as a big surprise Christopher Barker who had been in the audience appeared. After words of thanks for honoring his father he sang a capella his father's song "Mädchen in Samt und Seide". Luzern had been a very important city for Lex Barker: the love of his life Irene Labhardt was born in this beautiful town.
Photo by: Reto Schoeni
The picture shows (from left to right): Pierre Brice, Marie Versini, Christopher Barker and Martin Böttcher.
For bigger size of the picture klick here (641Kb)

"Winnetou and Friends" made an exceptional evening and united the big names of the Karl May movies on stage. Every visitor of the sold out concert hall knew: this was the great hommage to the unforgettable movies with Winnetou and Old Shatterhand.


More news about Lex are here: 30.04.: Treffen mit Christopher Barker
Thanks to Mr. Boller for this information and the picture with Christopher, which shows us once again just on Lex' birthday on 8th May that Lex Barker is and will not be forgotten! Which leads us directly to this wonderful poem by Raven Newland on our introduction site.