Le Carnaval des Barbouzes
Content:
A Man who apparantly is an escaped killer tracked by the police, takes refuge at a psychiatrist's home, and the doctor tells him three stories to convince him that crime does not pay.
The third story is about private detective Glenn Cassidy (Lex Barker) in San Francisco. He prevents a barmaid from being killed like five other barmaids of the Flamingo nightclub. All these girls had known the identity of a killer who was planning to kill Brazil's president during the Carnival in Rio de Janeiro.
Glenn takes the killer's identity and flies to Rio ...
There's absolutely no reason to watch this movie apart from seeing Lex...
Cast:
Frame:
Richard Münch:
Prof. Alden
Peter Vogel:
Unknown Man
Episode "Vienna":
Stewart Granger:
David Porter
Walter Giller:
Karl
Johanna Matz:
Monique Carrera
Episode "Rome":
Pierre Brice:
Mr. Brice
Margaret Lee:
Linda
Episode "Rio":
Lex Barker:
Glenn Cassidy, Dubbing actor: Gert Günther Hoffmann (69 Kb)
Allen Pinson:
Ray Runner
Klaus Kinski:
Gomez
Karin Dor:
Denise
Carmen G. Cervera (=Tita Barker):
Joana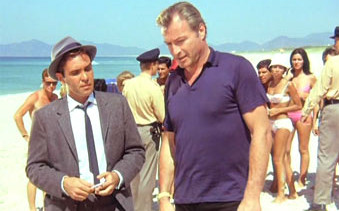 At the beach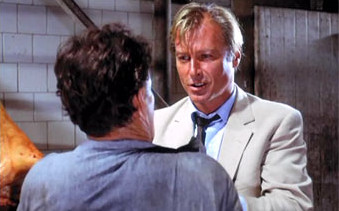 Fight in the slaughterhouse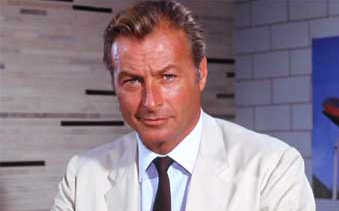 Glenn without glass...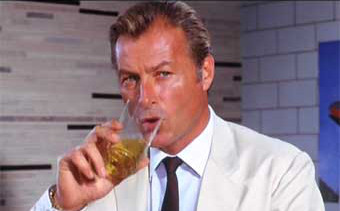 ...and having a drink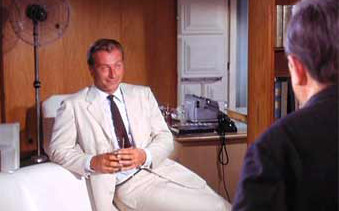 Discussion with the Chief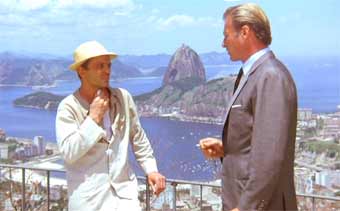 With Klaus Kinski high above Rio

Movie is available on DVD
Previous movie | Filmography | &nbspMovie pictures | Next movie