War Drums
Rebell der roten Berge
1957
Content:
Apache chief Mangas Coloradas is a friend of the Whites, a special friend of his is Luke Fargo. One day he captures a halfbreed woman who he falls in love with. but Luke Fargo, too, has caught an eye on her.
Their friendship is tested when the Apaches are on the warpath because of some villaines seeking for gold in Indian country.
There are different possibilities to judge this movie. (see below). I sort of like it in spite of its naive plot, because its one of very few movies of this time with indians shown as human beings instead of wild creatures. BTW: This movie is partly based on facts.
Watch Manga's belt, it's the same one that Lex uses as Old Shatterhand, because it's his own Navajo belt.
See review by Mouse.
Cast:
Lex Barker:
Mangas Coloradas, Dubbing actor: Klaus Guth (TV dubbing)
Gert Günther Hoffmann (Original movie dubbing)
Joan Taylor:
Riva
Ben Johnson:
Luke Fargo
Larry Chance:
Ponce
Richard H. Cutting:
Bolton
James Parnell:
Arizona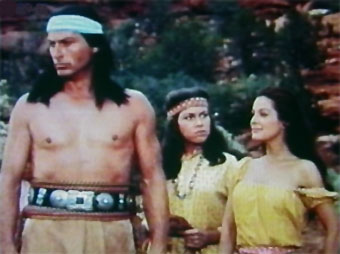 In the Indian village (with Jill Jarmyn and Joan Taylor)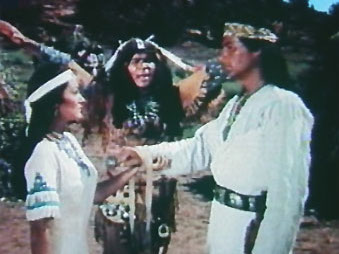 Wedding ceremony with Riva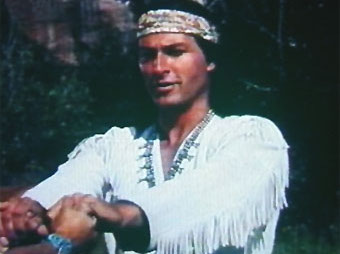 Newly wed!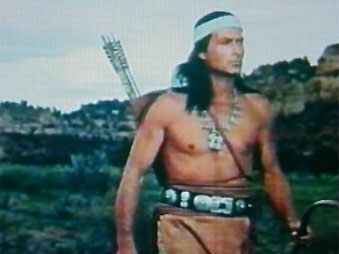 The bowman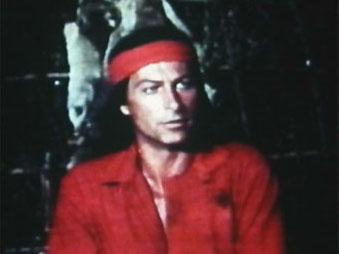 Mangas Coloradas (=Red Sleeve)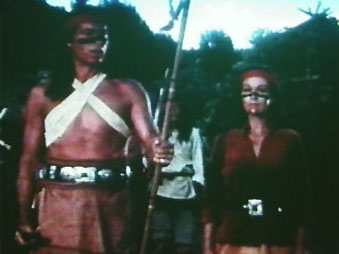 Something very special: Lex on the warpath