Winnetou und Shatterhand im Tal der Toten
Winnetou und Shatterhand im Tal der Toten
1968
Content:
US Fort Dawson is attacked by indians and has to be abandoned, and Major Kingsley tries to save the cash. He is followed by Murdock and his gang and manages to hide the wagon with the cash in the impenetrable "Valley of Death". Severly injured he is able to tell Winnetou about the hiding spot just before he dies.
Major Cranfield accuses Major Kingsley in front of the court-martial of having embezzled the money but Kingsleys daughter Mabel has a letter from her father proving his innocence. Old Shatterhand vouches for her and she is allowed to prove her fathers innocence and to find the cash within 60 days. Mabel, Old Shatterhand, Winnetou and later on Lt. Cummings and his men leave to find the cash.
When Sam Hawkens and Lord Castlepool learn that Murdock and his gang are after Mabel and the others they start to warn them. Murdock manages to capture Lt. Cummings and torture him to get Mabels letter.
Old Shatterhand, Mabel and the others and Murdock with his men are captured by the Sioux but Murdock promises to give the Sioux gold out of the cash and is released. Winnetou, Old Shatterhand, Mabel and the others have to fight for their freedom. They ride through the "Valley of the snakes" to reach the Osages but Murdock is hot on their trail ...
Cast:
| | |
| --- | --- |
| Lex Barker: | Old Shatterhand, Dubbing actor: Gert Günther Hoffmann |
| Pierre Brice: | Winnetou |
| Karin Dor: | Mabel Kingsley |
| Rik Battaglia: | Murdock |
| Ralf Wolter: | Sam Hawkens |
| Eddi Arent: | Lord Castlepool |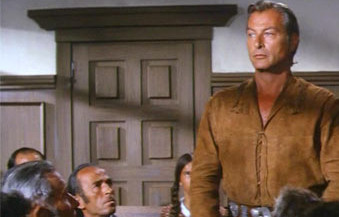 Old Shatterhand vouches for Mabel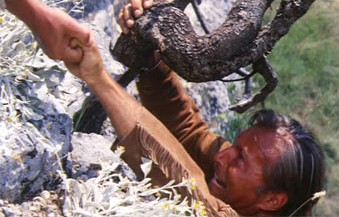 Close rescue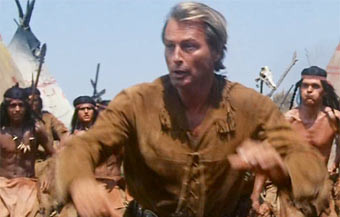 Fighting with the Sioux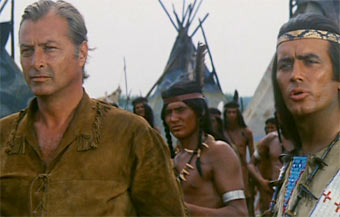 Hard negotiations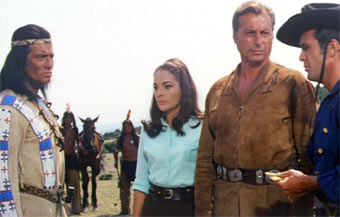 Discussing the plan of action