The Castle of the Walking Dead
Die Schlangengrube und das Pendel
1967
Content:
In 1801 Count Regula is executed for having killed 12 virgins. Forty years later Roger Monte Elise is invited by mysterious Count Regula and travels to notorious Sander Valley to learn more about his descent.
On his way he gets acquainted with Lilian of Brabant who has the same goal and preacher Fabian who seems to look upon their travel as a big joke, at least in the beginning. The ride to the Vallex is a horrible experience as is their stay in the castle. Roger and Lilian recognize that they are not here at the same time by accident, but when they finally learn the real reason why they are at castle Sandomey it is almost too late...
Interesting detail: Christopher Lee was one of the candidates to play Winnetou at first, and he had been already screen tested. Picture (Courtesy of christopherleeweb.com).
In this movie Lex speaks undoubtedly by himself in the English version! See soundbites!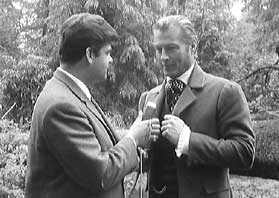 Interview with Lex Barker on the set,
from the additional material from
the DVD by e-m-s
Cast:
Lex Barker:
Reinhard von Marienberg/Roger Monte Elise,
Dubbing actor: Horst Naumann (89 Kb)
Sound file with Lex' own voice
Karin Dor:
Lilian von Brabant
Christopher Lee:
Graf Regula
Carl Lange:
Anatol
Christiane Rücker:
Babette
Vladimir Medar:
Fabian
Dieter Eppler:
Kutscher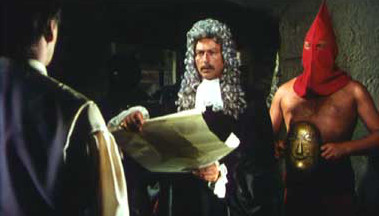 Reinhard of Marienberg reads out the death sentence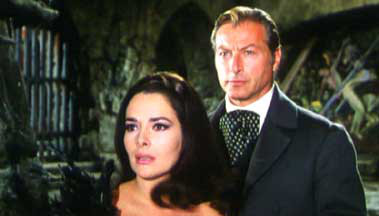 Weird things happen at the castle...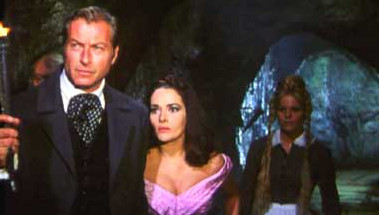 Searching for a way out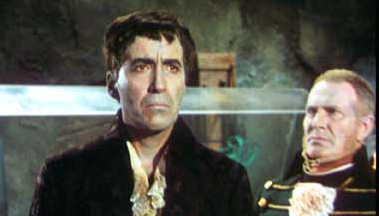 Count Regula has risen from the dead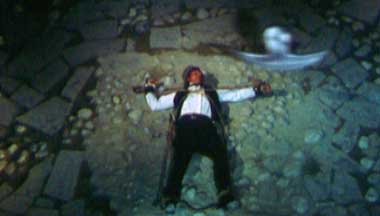 The pendulum of death...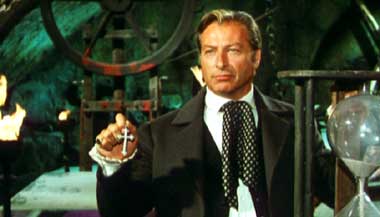 Last fight against Regula